Multi-Spindle Drill Heads for Drilling and Tapping



Multi-Spindle Heads are designed for use with most drilling machinery. They can, almost immediately, double or triple your drilling operations by simultaneously drilling countersinking, reaming or tapping two or more holes in one operation. Multi-spindle drill heads have proved to be the most versatile method to drill and/or tap close spaced holes.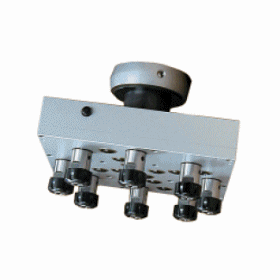 Adjustable Twin Spindle Drilling Heads

Adjustable multi-spindle drilling heads can convert an unproductive single spindle drilling machine to a versatile multi-drill machine


Both adjustable and fixed style multi-spindle drill heads with adapters to fit manual, automatic and fixture type drilling equipment are available. These multi-spindle drill heads are high quality and priced to be affordable. Provide some basic dimensions, as shown on our Application Sheet, for a prompt quotation. Adjustable style Multiple Spindle Heads for drilling and tapping are usually stock items. Adapters are machined in about two weeks. Multi-Spindle Drill heads are sometimes referred to as cluster drills or gang drills.


AutoDrill
1221 US Hwy 22
Lebanon, NJ 08833
Ph. 800-871-5022
Intl.Ph. 01-908-542-0244
Fax: 908-542-0242