Multiple Spindle Head Applications


Applications for Multi-Spindle Heads are only limited by your imagination. Below are applications requested by customers where Multiple Spindle Heads were the ideal solution.



---


Obstruction - The image shows a hole location with limited access. An offset single spindle head was the solution!

---


Dual Purpose - Sometimes more than one drill pattern can be placed on a single Multi-Spindle Drill head. The drawing shows two horizonal patterns. The upper pattern drills 1-3/16" C-C holes and the lower pattern drills a 1-1/2" C-C pair of holes. Of course, only two tools will be placed in the head for any pattern.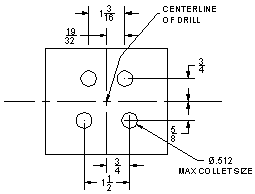 ---


400% INCREASE IN PRODUCTION !! - A four spindle in-line fixed pattern drill head increased the drilling production of this straight line pattern by reducing number of times indexing is necessary from eight to two. Added benefits include less chance for error, less accumulated tolerance error and less tool changes.


---


Motorized Drive for Fixed or Adjustable Spindle head - The fixed three spindle head with a motor drive was added to a CNC router to increase the drilling production three fold. The "Z" axis of the router was used to downfeed the head/motor.
































AutoDrill can provide replacement drilling heads for Commander, Johnson, Ettco, Centerline Centroid and many more. Our prices make rebuilding Commander, Johnson, Ettco, Centerline Centroid and many other brand multiple spindle heads uneconomical. When you need a replacement head for Commander, Johnson, Ettco or Centerline Centroid multi-spindle drill or tapping heads call AutoDrill.

AutoDrill
1221 US Hwy 22
Lebanon, NJ 08833
Ph. 800-871-5022
Intl.Ph. 01-908-542-0244
Fax: 908-542-0242