Drilling Different Size Holes with a MultiSpindle Head



Close spaced hole tend to be uniform in size but there are situations where a hole pattern has hole sizes that differ. If the difference in hole size among the cluster of holes is less than 30-50% than the spindle speed can be set to allow drilling the largest hole size without affecting the tool life. Our Recommended Tool Speed Chart can be used as a guide for tooling speeds for standard high-speed tooling in common materials.

When the difference in hole sizes is greater than recommended reducing the spindle speed to that for the largest hole will seriously affect the pattern drilling time. The chance for tool breakage with the smaller sizes will also be increased. We can provide a solution in the multiple head design to have the spindles drilling the smaller hole to run at a high RPM than the spindles drilling the large holes. This can be done for a nominal charge because of our large selection of gear ratios available.

When drilling different size hole simultaneously with a Multi-Spindle Drill Head the tool lengths should be the same as close as possible. This will keep the side loads on the drill spindle head and the tooling low. It will also reduce tool breakage of the smaller tooling, drill straighter holes and drill a precision hole pattern. Standard drills come in three standard lengths know as screw machine length, jobber length and taper length in increasing order. It is better to use the shorter length for the large drills reather than the longer length for the small drills to keep the small tools from flexing. Our on-line charts listing the dimensions for the three available drill lengths are: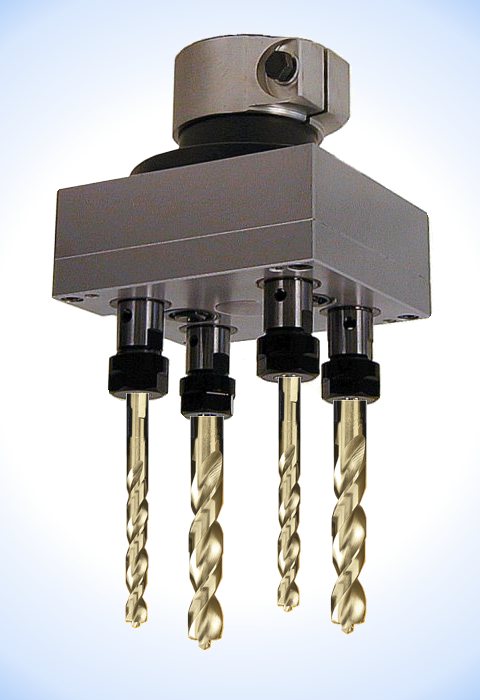 AutoDrill can provide replacement drilling heads for Commander, Johnson, Ettco, Centerline Centroid and many more. Our prices make rebuilding Commander, Johnson, Ettco, Centerline Centroid and many other brand multiple spindle heads uneconomical. When you need a replacement head for Commander, Johnson, Ettco or Centerline Centroid multi-spindle drill or tapping heads call AutoDrill.

AutoDrill
1221 US Hwy 22
Lebanon, NJ 08833
Ph. 800-871-5022
Intl.Ph. 01-908-542-0244
Fax: 908-542-0242