Basic Drill Tooling Information for Metalworking
General Purpose Twist Drills
Jobber Drill
This Drill is designed for general purpose drilling under a wide range of drilling conditions. It can drill various materials such as cast iron, steel, and steel forging. The surface treatment prevents chip welding, improves chip flow and increases abrasion resistance. They are generally available in a bright polished finish or a black oxide finish. Black oxide finish is the most common. The bright polished finish reduce loading when drilling soft materials like aluminum and brass.
General purpose twist drills are available in three common lengths, jobber length, screw machine length and taper length. The jobber length is the most common and may be considered the standard length if nothing else is specified.
Heavy Duty, 135º Split Point Twist Drill
Heavy duty type with 135º split point for use in cast iron,steel alloys, stainless steels, titanium, etc. This style is available in the three common lengths, jobber, screw machine and taper.
Jobber Length Drills
Jobber Drill - Reduced Shank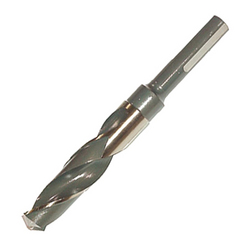 Silver & Deming Reduced Shank Drill with flats
Reduced shank drills are used for drilling holes larger than the capacity of a 1/4, 3/8, or 1/2 drill chuck. Reduced shank drills should only be used for light to medium duty drilling applications as they do not have the torque strength of a straight shank drill.
For drill sizes above 1/2" the Silver & Deming (S&D) drills are available for use with 1/2" capacity drill chucks. They have a 1/2" diameter shank, either round or with three equally spaced flats, for drill sizes up to about 1-1/2". These drills are not made for higher precision holes but serve the purpose for many common large hole requirements where only 1/2" capacity chucks are available.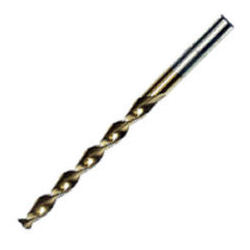 Parabolic Drill
Jobber Drill - Parabolic Flute
For deep hole drilling in a wide range of materials especially aluminum and mild steel. Parabolic flutes ease chip ejection.
Cobalt Jobber Length - Straight Shank - Heavy Duty
Heavier construction than General Purpose Twist Drills for use in the harder, tougher alloy steels of the stainless and manganese types; castings; forgings; and chilled cast iron. These drills can be run approximately 25% faster than those of High Speed Steel, because of Cobalt steel's ability to withstand high cutting temperatures.
Common Drill Types
Jobber Length Drills - The most common drill type is the jobber type drill. Jobber actually refers to the drill overall length. It is one of three lengths commonly available for snall diameter, less than 3/4", drills. The other two lengths are Screw Machine and Taper.
Screw Machine length drills are shorter than Jobber and are used when the depth to be drilled is shallow and when the hole tolerance is important. Since they are shorter than Jobber length they will have less tendency to flex. This may minimize any tendency to move from the intended location. This is important when the surface to be drilled is not exactly perpendicular to the tool. The drill may also have less tendency to drill an oversized bell-mouth hole in the entrance area.
Taper length drills are longer than Jobber and are used when the extra length is necessary for the application.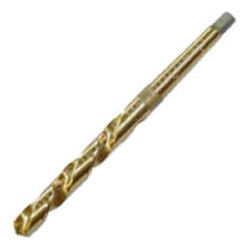 Morse Taper Drill
Taper Shank Drills are available for larger cutting sizes. The shank taper is usually a Morse Taper. These drills must be used with spindles specifically made to accept the taper. Most drills presses have a Morse Taper spindle. Morse tapers are specified as MT1 to MT5.